The US Powerball is going to start 2020 on a very high note. Together with Dick Clark Productions, the lottery is hosting a brand-new event – the First POWERBALL Millionaire of the Year! This is a second chance draw that Powerball players can enter to win 300 trips to NYC for New Year's. Then, one of the 300 winners will win a special $1 million prize. The draw will be held right after midnight, on January 1st, 2020, on the New Year's Rockin' Eve show with Ryan Seacrest.
---
Who can enter the First POWERBALL Millionaire of the Year draw?
This special draw is open to all Powerball players in the 24 participating states. People who purchase Powerball tickets there can sign up online on their state lottery platform for the New Year's raffle. All it takes is one ticket and you don't even have to be a winner to enter the raffle. That's right! Even if you don't match any of the winning numbers, you can still win big in the Powerball at the end of 2019!
---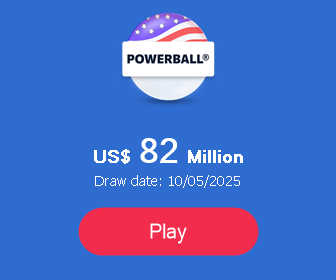 What are the prizes in the Powerball New Year's Raffle?
Towards the end of December, 300 lucky players can win trips to New York City. They will be flown in for a fairytale-like NYC adventure and to make it even more exciting, one of them will win $1 million on January 1st, 2020.
The NYC trip includes flight tickets for the winner and one guest, exclusive hotel stay in Times Square, a holiday cruise on the Hudson river, Broadway tickets, meals at some of the best restaurants in New York, and many others.
The first POWERBALL Millionaire of the year will be announced on one of the most popular New Year's specials in America, the New Year's Rockin' Eve show. Does it get any better than this? Maybe winning that $1 million does. If you want to find out what that feels like, then enter your ticket in the US Powerball this year! Good luck!